News & Events
15th All World Dawoodi Bohra Conference
Reformists renew call for struggle against clergy
---
The two-day 15th All World Dawoodi Bohra Conference concluded in Udaipur on March 12, after a successful convention attended by reformist Dawoodi Bohras from all over the country. This event, held at Lok Kala Mandal, was organized by the Central Board of Dawoodi Bohra Community (CBDBC) with support from the Bohra Youth Jamaat and Bohra Youth Association, Udaipur.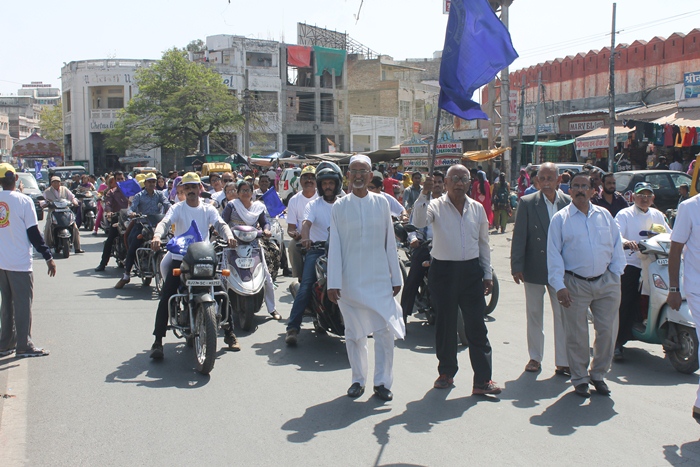 Day One saw the inauguration of the conference attended by dignitaries from different walks of life. The chief guest of the evening was Vajahat Habibullah, first Chief Information Commissioner of India and ex-chairperson of the National Commission for Minorities. Guests of honor included Indira Jaising, former Additional Solicitor General of India and senior advocate of the Supreme Court, Professor Faizan Mustafa, Vice-Chancellor of NALSAR University of Law, Hyderabad, social activist Swami Agnivesh and Ved Vyas, president of Rajasthan Progressive Writers' Association. The event was anchored by Nasir Javed.
The conference began with an impressive motor rally organized by the Bohra Youth Association, Udaipur. The rallyists showed up in strong numbers making their way to the venue of the conference in a long, winding line-up of scooters and motor-cycles holding up banners and bringing traffic to a standstill.
The first speaker of the day was ex-Vice Chancellor Kota University, Professor Madhu Sudan Sharma who was chairman of the reception committee, who spoke of his close association with reformist Bohras of Udaipur and how a local movement turned into a larger fight attracting support from other communities. This was followed by a "quami tarana", scripted by CBDBC veteran Saifuddin Insaaf and performed by a group of young reformist men and women. Thereafter, the session was declared open.
Chief guest Vajahat Habibullah, speaking extensively on rights of an individual said Islam teaches people to live with self-respect. He praised the continuation of the reformists' fight for independence and assured them they were not alone in this struggle.
Indira Jaising was very inspiring in her address as she examined the struggle from a legal angle and said no one has the right to curb your voice but you. Speaking of women's issues that need redressal, she spoke on FGM (female genital mutilation) and asked that the Bohra community should research the topic well and examine it from a health point of view and why it should be discontinued.
Professor Mustafa, Ved Vyas and Swami Agnivesh, too, addressed a large gathering.
On the occasion, reformist veterans Ghulam Hussain Faizee and Kamruddin Mavliwala were honored by the guests.
Resolution no.1 on sole trusteeship and Waqf board issues was passed at the end of the session with no voice of dissent.
Day Two, Session One was a delegate session which involved participation of reformist members from other cities of India including Ujjain, Delhi, Bhopal, Surat, Mumbai and Valsad. An Ujjain resident highlighted the challenges he and his family members are facing in the city for being the only reformist family. Zehra Cyclewala, veteran fighter from Surat, was her usual inspiring and motivating self as she called on the reformists of Udaipur to provide support to those who are carrying on isolated battles in their cities.
Masooma Ranalvi, popular for her Speak Out on FGM campaign, gave a good 20-minute talk on how Bohras in Udaipur need to understand the health issues associated with the practice of female circumcision or khatna and work on how it can be discontinued. She was supported in her call by a good number of women in the audience.
Day Two, Session Two saw six more resolutions passed by the members present. These included cases pending in the Supreme Court and urging for a quick hearing, challenges facing Muslim youth in the face of terrorism and they being dragged into controversies, the courtroom battle for succession to Dai-ship and discouraging an acknowledgement of the successor till a court verdict.
Session Two ended with elections for the new office bearers of CBDBC. The new executive members included chairman Saifuddin Insaaf, vice-chairpersons Irfan Engineer and Razia Sanwari, general secretary Commander Mansoor Ali Bohra, treasurer Yunus Baluwala and patron Abid Adeeb.
Memorial lecture for Asghar Ali Engineer
A national seminar to commemorate the 78th birth anniversary of Dr Asghar Ali Engineer was organized by the Bohra Youth Media Cell of Udaipur on March 10 on behalf of the Udaipur Dawoodi Bohra Jamaat and Bohra Youth Association in collaboration with the Centre for Study of Society and Secularism (CSSS), founded by Dr AA Engineer.
The topic of discussion was Relevance of Secularism to Struggles of Oppressed and the Challenges. Keynote speakers included Professor Faizan Mustafa, Ved Vyas, president of Rajasthan Progressive Writers Association, Harsh Mander, retired IAS officer and advisor to SC, RTF Secretariat Delhi, and Irfan Engineer, head of Centre for Study of Society and Secularism, Mumbai. Guest of honor was Swami Agnivesh. The event was presided over by president of the Central Board of Dawoodi Bohra Community Abid Adeeb and anchored by Razia Sanwari.
It was an exciting evening for the 500-plus audience as speakers treated it some highly-inspiring discussion on secularism. Professor Mustafa, who opened the proceedings, spoke of how a majority in the country wants to impose its ways of life on the minority in the name of civil code. Mander said fraternity and brotherhood are the basis for secularism and it is all about understanding each other's problems and pains.
Swami Agnivesh had the audience riveted with his talk. He said secularism will be incomplete until women do not get equal stature in society. Ved Vyas, who is a long-time supporter of the reformist movement of Udaipur, received a standing ovation as he spoke despite temporary showers disrupting proceedings, and the audience remained in their seats.
Irfan Engineer said the real base of secularism lies in Buddhism and Jainism which believes in love between fellow humans and brotherhood of man.
The seminar was followed by a 90-minute play "Lashkar Chowk", a drama based on Pandey Bechan Sharma's story "Khudaraam". It was performed by actors from Natyansh Society of Dramatics and Performing Arts, an Udaipur-based drama group that is well-known for taking on scripts with a social message. The play went down very well with the audience who gave a resounding applause at the end.
All World Dawoodi Bohra Conference - Udaipur - 2017